• Low Level Laser Therapy for Hair Loss
• 304 Laser Diodes
• Large Coverage Area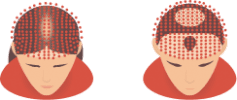 Best for
• Moderate, more advanced hair loss
• Hair loss on vertex/crown (top of the head) hairline, or diffuse
• 3.93 J/cm2 Energy Dose
With 304 individual 650nm 5mW lasers in a flexible, hermetically-sealed dome-shaped membrane that fits comfortably in almost any hat, and powered by a small belt-clip battery pack, it offers patients the low level laser power of an in-office clinical unit in the comfort of your home.
Thinning hair has just become obsolete.....
How it Works
The team behind the LaserCap set out to develop a superior device with the coverage of a dome, but in a portable design. They designed a device that fits in a variety of hats, is powered by a portable battery pack, and contains 304 laser diodes. The entire target zone is treated throughout the duration of treatment, and the user can perform almost any activity during use, including walking, riding, running, preparing dinner, working, and more.
hi, I bought my laser cap back in september and since that time I've noticed a big difference in the way my hair looks and feels. I use the laser twice weekly and also use the alkaline shampoo and dht vitamin. I'm very happy with it and look forward to seeing even more growth.

just received it today. it comes in a solid road case, looks and feel solid. very pleased with the laser. lets get to work!